Introduction
If you want to convert some text to voices and insert them to an audio file, Music Editor Free is the right one to do this. With the built-in TTS tool, you can easily add narration to sound files.
Download the Music Editor Free through the link below and Save the file to your desktop:
---
Step 1. Input an audio file
Launch Music Editor Free, click "Open" to input an audio file to the program.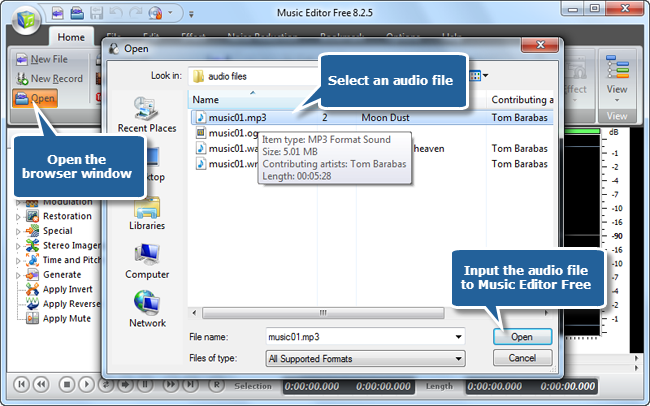 ---
Step 2. Activate the Text to Speech tool
The waveform of the file can be viewed now. You need to left-click on the waveform to select an insertion point as needed. Then, click the "Text to Speech" to activate the TTS tool.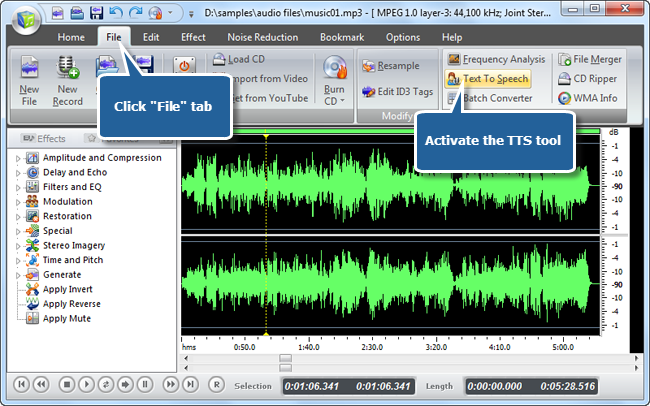 ---
Step 3. Insert the converted speech
In the pop-up window you can enter the text you wish spoken. Choose the voice you need (Speech engine could be added through adding more voice packages). Click "Synthesis Speech" and within seconds the speech will be added to the selected point. Now you can save the processed file – and that's all.
---
Step 4. Save the changes
Now go back to the "Home" tab and click the "Save" button if you would like to change your source file. You can also click the black arrow under the "Save" button to select the necessary option:
Save File to save all the changes to the source file;
Save File As… to save the edited audio track with a different file name and/or location;
Save Selection As… to save just the highlighted selection to a file.