Disc Create Express - Eraser and more tools
Have problems with the used CD/DVD? It is not economically viable to shred them or break them. Our CD burner provides you an excellent solution to erase the unwanted data information on the CD or DVD. It is quick and easy to erase the rewritable discs.
Disc Create Express also provides a device info tool to display all the information of your PC drives: vendor, revision, reading/writing types, CD/DVD within, etc. With the little function, you will know the accurate properties of CD/DVD devices and which kind of reading and writing disc types the device supports.
More tools such as ISO Burner, ISO Ripper and ISO Maker are provided for you to create, grab & burn ISO image files with high speed and quality.
1. Erase Disc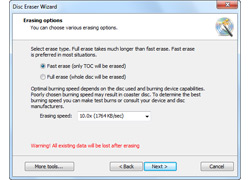 Erase unwanted data or files from disc for recycling to promote environment protection.
What benefits can I expect?
Disc Create Express is for fast burning, creating and ripping. You will find all the features convenient to use, even for beginners in disc burning.
Burn music CD from audio files of different formats to enjoy in your CD player
Burn data CD/DVD to your disc to backup your important data
Burn multiple videos to your video CD/DVD to enjoy on your DVD player
Extract audio tracks from CDs and save them to WAV, MP3, WMA, etc. to play on compatible players
Erase your discs for reuse to protect environment
View detailed information of your PC's drives and discs
Why should I choose Disc Create Express?
There are thousands of disc burning programs out there, free ones and paid ones. Here are some reasons why you should be users of Disc Create Express:
Fast burning speed to save time
Well-prefined output settings
Lossless output quality
Multi-core processor supported
Adware or spyware free
Super-fast media conversion technology to save your time
Fast and efficient operation
Graphical user interface
Reliable technology is provided
---
What are the system requirements?
Minimum:
Intel Pentium 3 500MHz or equivalent processor
At least 256 MB RAM
200 MB free hard disk space
Graphics mode 800x600, 16-bit colour
Internet Explorer 6
Microsoft Windows XP / Vista / 7 / 8
Recommended:
Intel Pentium 4 1GHz or equivalent processor
512 MB RAM
Minimum 200 MB free hard disk space (since space is also needed to download drivers)
Graphics mode 1024x768 true color (highest 32-bit)
Internet Explorer 7
Microsoft Windows XP / Vista / 7 / 8