Music editors, as is evident by the name are used to edit and customize music. Their use extends to all sort of audio files that are not necessarily music, such as lectures or podcasts. Music and other listening materials are an essential part of our lives. We use these tiny distractions to keep our mind entertained and our emotions alive and colored. Hence software for editing music always stays in demand. In this article, we will introduce the Best Music Editor Software to you and see what it can do to fulfil your music editing needs.

As more and more people indulge in music there is augmented need for innovation in this area. It can only be achieved by high-quality music editor software that allows music lovers to add a personal touch to their music using such software and this means you don't have to be a pro to achieve your goals in customizing your music according to your taste. Software like these makes it possible for you to truly have the attitude of "I can achieve whatever I set out to achieve in life".
---
The Best Music Editor Software 2018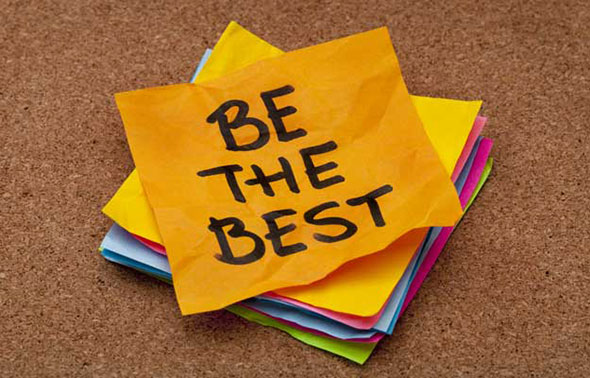 Music Editor Free is a software that offers pretty much everything you could possibly want from a music editor software. If you are looking to get into audio editing and don't know much about the work then this is the perfect software for you as it's easy-to-use interface can let you learn while you go along. The usability is a major factor which can be a deciding factor for someone who is not a pro. Music Editor Free offers almost all of the functions and features you might need. You can trim, join and edit music; also you can add effects and make remixes like a breeze.
---
What to Look for When Choosing Best Music Editor Software
This is a question which comes up to everyone's mind while choosing a software because it's a bit of a hassle to download and install a software which does not meet your need and then having to search and download another one which you hope will suffice. The best way is to read blogs like this and educate you to know which software offers the best value and features.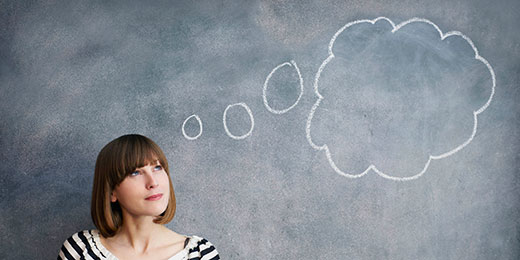 A software that meets all your requirements can be considered as a good investment of time. A good software must offer all the essential features but this should also be kept in mind that the software should be easy to use. Too many options can turn out to be a headache especially if you do not know what everything is supposed to do.
---
Pros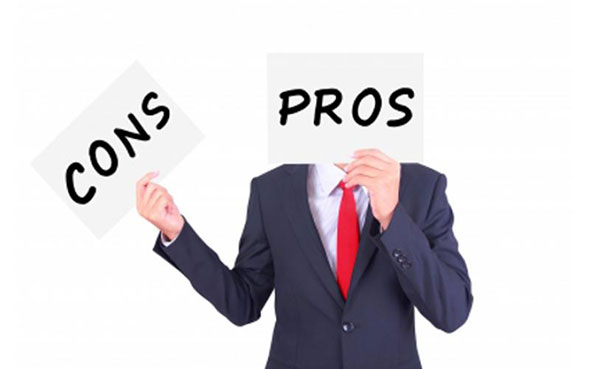 Best Music Editor Software – Music Editor Free offers a lot of pros, such as
The ability to record audio.
Burning CDs
Trimming, merging, silencing parts of an audio file.
Adding effects like echo, reverse, amplify, normalize, noise reduction etcetera.
Extracting audio from YouTube videos.
Excellent usability because of the well-developed interface.
And all that is absolutely free.
---
Specialties
What sets Music Editor Free apart from the rest is its user-friendly interface. It offers all the features you might need, naming a few: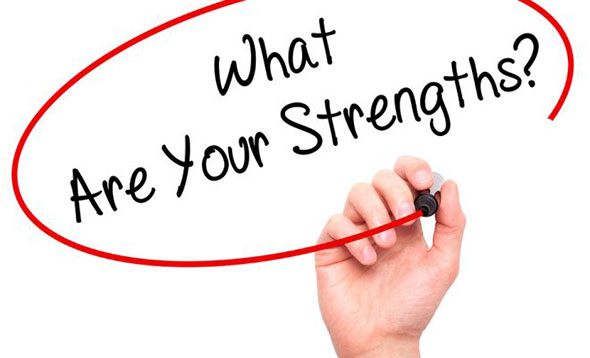 The ability to record audio, this lets you record podcasts, concerts, music etcetera.
You can edit sound with Music Editor Free, this will give you a chance to play around with different audio files. You can cut, paste, merge different audio clips.
Music Editor Free also gives you the ability to add effects to your music.
Music Editor Free gives you the ability to burn your music on to a CD which is quite a chore if you ever had the experience of doing it you would know.
There are many other such small features which other software don't offer and that's why Music editor free is the best music editor software of 2018.
---
Step-by-Step Guide – How to Edit Music with Best Music Editor Software 2018
The first step is to download and install the Best Music Editor Software, Music Editor Free.
2.  Running the software will lead you to below-mentioned window.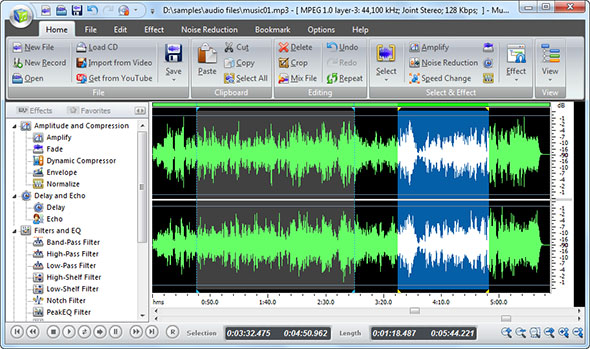 In the home tab you have the options like adding the media, recording audio, loading a cd, importing audio from a video.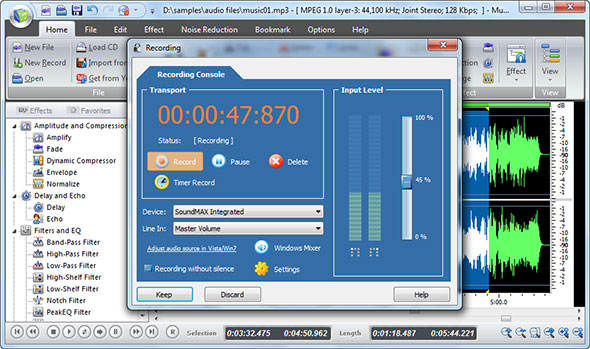 4.  For adding effects, use the open button to add the audio file to which you want to add effects.
5.  The effects tab contains all the various effects. To add the desired effect, select a portion of the audio file and then choose the desired effect.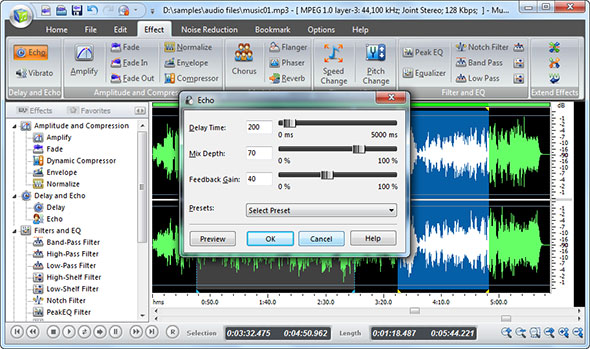 6. Now that you have selected and added the effect you want the next step would be to adjust the output quality. This also gives you a preview option in which you can listen to the results so that you know for  sure that you are getting what you wanted before you finish.
7.  The last step is to save your progress. If you are satisfied with the preview and think that you have got what you wanted then go back to the home tab and click save. You can also select from the drop-down options by clicking the black arrow under the save option. This will give you three further options:
Save file
This will save all the changes to the source file.
Save file as
This will save the output file as a separate file or in another location.
Save selection as
This will save just the selected portion to a file.
---
Tips and Tricks of Using Best Music Editor Software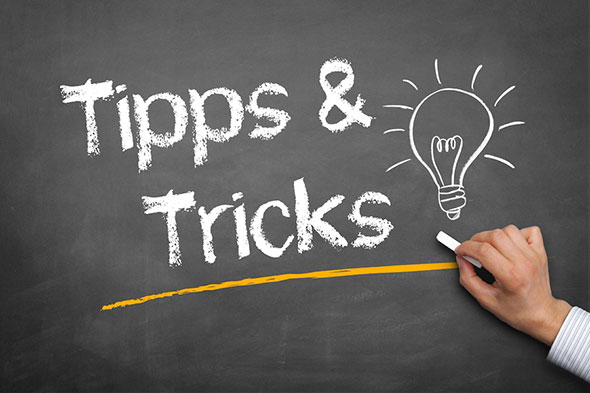 The software is pretty simple to use so there are not a lot of special tricks to its functionality. There are only a few things to keep in mind. The first and most important one, which holds true for any editing software is to go slow and start simple. Listen to the preview so that you can have an idea of how good or bad the changes you made to the sound are before you save a file. Try and use the save as option instead of just saving onto the source file itself.
---
Verdict
To make a long story short, music editor free is a software that will be enough for even a pro. It is easy to use and offers everything you might need from an editing software and it provides all this for free.