There are so many songs you love. You must be craving to mix them all and create your own remix CD to play whenever you are at home or in your car for your enjoyment. There is software that could help you to do this task flawlessly, and it is called Music Editor Free. This article is posted to show you How to Edit Songs with this free music editor software.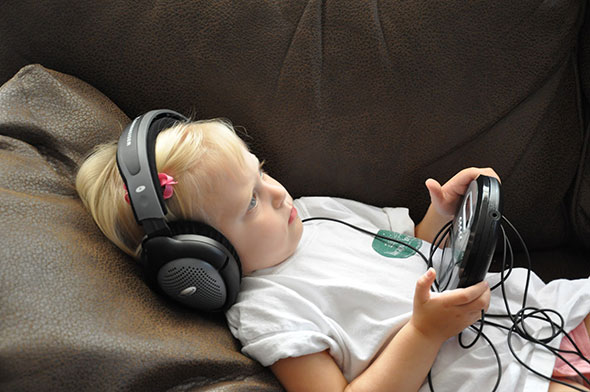 ---
Pros of Music Editor Free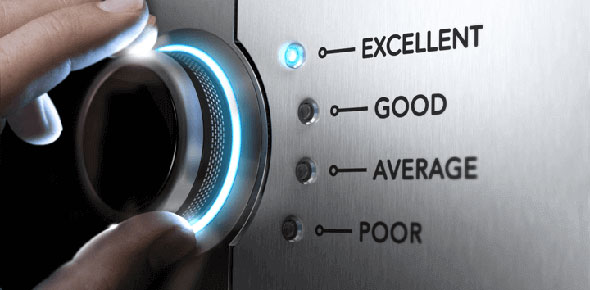 First of all, this is a free music editor software. For downloading it you will not need to pay anything at all. Almost all music editors you find online must be paid, and are not as good as Music Editor Free.
One of the things that attract people the most is that this software can do anything you want and need to do. Music Editor Free can record audios from any source (radio, CDs and tape players, microphones, and more). It also can extract audios from YouTube videos or video files you have in your computer. Finally, it allows you to edit music files however you desire, adding effects and mixing files so you can create remixes to pleasantly enjoy. Music Editor Free is definitely more than those plain and simple Music Editors you can find online.
There is no audio file this free music editor software does not support. MP3, Ogg Vorbis, RAW, WMV, GSM, and so many others, Music Editor Free is your perfect ally for editing any audio.
Finally, this music editor is super safe. Downloading it does not imply getting malware or virus with it.
---
Who needs Music Editor Free to for making a remix CD?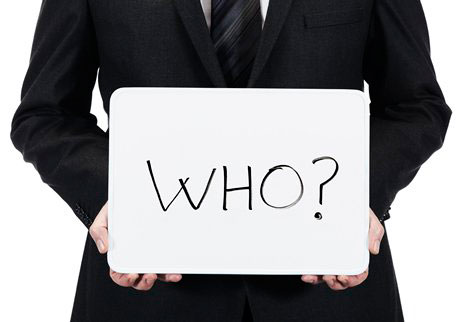 This music editor software is used the most by people with non-commercial purposes who love music and desire to create fun remixes to listen to whenever and wherever they want.
---
How to edit songs to make a remix CD with Music Editor Free?
How to edit songs to make a remix CD? Making a remix CD is only a 6-step process, very simple and entertaining to carry. But before following this guide, you need to download and to launch Music Editor Free. This software, as previously said, is free and safe to use, so even downloading it cannot be more simple and user-friendly.
Step 1. Select the audio you want to edit to make a remix CD.
The first thing that must be done after launching this free music editor software is inputting the audio file – no matter its format – and opening it. You can do this by clicking the "open" option in the "home" section located in the upper toolbar, selecting the audio file, and clicking the new "open" option.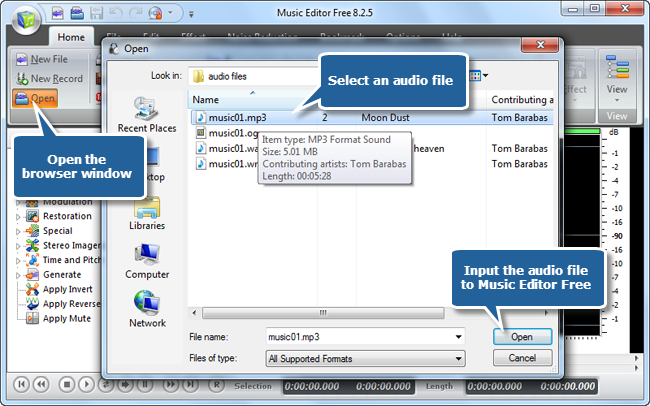 Step 2. Select a section you want to edit.
It is necessary that before doing this step, you must have selected where the section you want to edit begins and ends so you do not make any mistake that would affect the remix.
If you have this clear, click using the left button of the mouse the part where the section you want to edit begins, and move the cursor all the way to where it ends, without releasing the button.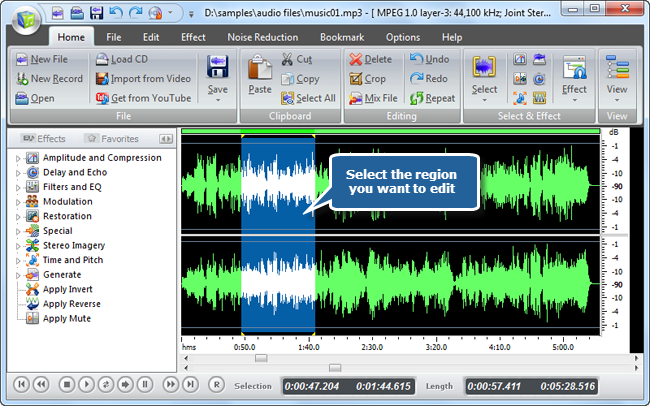 Step 3. Edit the region you selected.
The upper toolbar has the option "Edit". Click it so new editing options can be displayed. Some of the basic options to create the remix of a song are "cut", "copy" and "paste". You will be able of doing whatever you want with the audio file. Other features such as "Mix file" will allow you to add more audio files, to make not just the remix of one song, but of many. Creating a remix CD will be very easy with this free music editor software.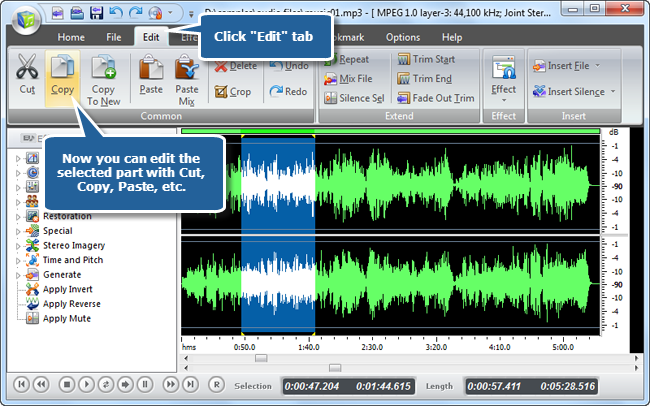 Step 4. Add some effects to the audio files.
This free music editor software has some more options so creating a remix can become a more interesting experience. There is an option in the tools bar called "Effect". Here, you will be able to add some cool effects to the section of audio you are editing, such as "echo", "pitch range", "vibration", and "noise reduction".
You can use them for the transitions between each song as well. Each and every new effect you add to the track will make your remix CD unique and full of interesting sounds. Music Editor Free allows you to repeat the steps 2, 3 and 4 as many times as you want so you can create a complex and entertaining remix CD with your favorite songs.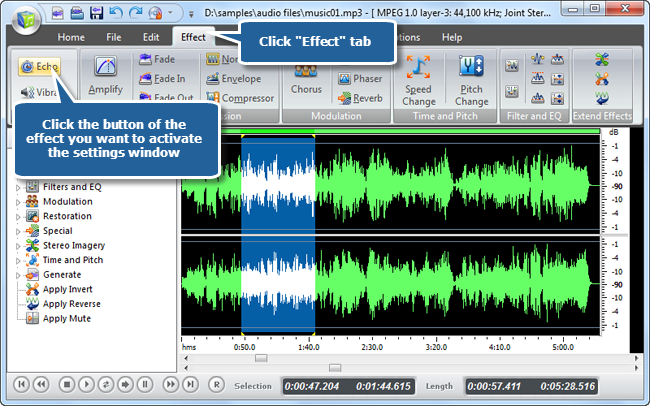 Step 5. Use the Audio Burner Wizard to create your remix CD.
Your remix CD will not be ready until you pass the audio files you have already edited into this device, but this will not be a hard task since Music Editor Free can help you. One of the greatest features this free music editor software counts with is a CD burning assistant.
So, Insert the audio CD into the disc drive, and use the burning assistant to choose the files you want to use to create your remix CD. You can also select the mode and speed of the burning process, so the final result is a high-quality mix.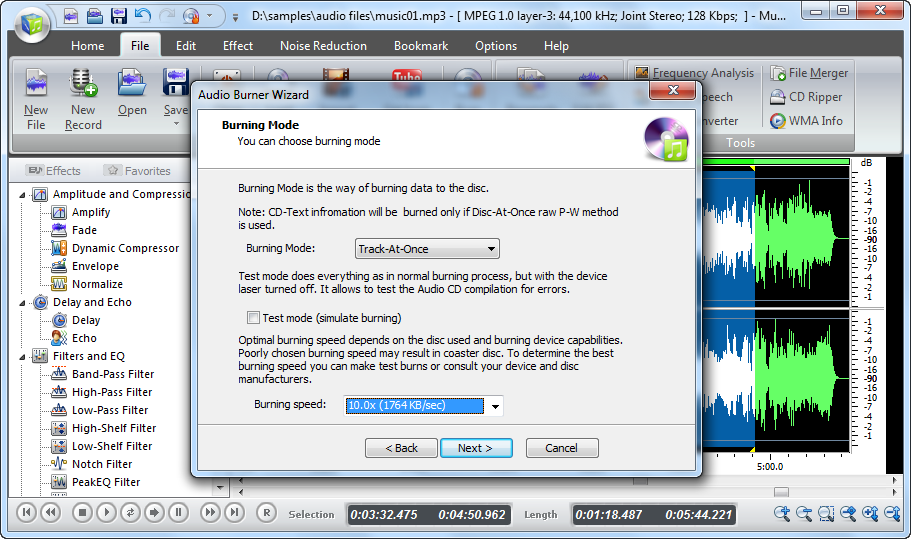 Step 6. Start burning your CD.
Let the Audio Burner Wizard help you to establish the settings and start burning your remix CD. After finishing, you will have a brand new remix CD you can enjoy at home and in your car. That's How to Edit Songs and go burn some music CD with the tracks of your choice!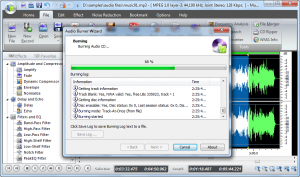 Music Editor Free is not a simple software for just copying and pasting audio sections. This free music editor software is capable of creating fun and interesting remixes of your favorite songs, so you can burn CDs with all the music you love and you want to enjoy while cooking, cleaning your house or driving to the store.
Music Editor Free is the only software you will find online that can be downloaded for free, that is safe to use, and that lets users record audios from any source, extract audios from videos, and edit music however they want. Download Music Editor Free and let your imagination guide you to create great remixes.