Introduction
Music Editor Free is a professional but easy and intuitive audio editor. With this simplest editor, you can edit your audio files with all classic editing functions: cut, copy, paste, paste mix, trim/crop, delete, undo and so on. If required, add effects like echo, amplification and noise reduction, etc. to your audio file. You can easily record any sound, music and other audio recordings. You even can combine, mix, insert and do other audio operations easily.
Download the Music Editor Free through the link below and Save the file to your desktop:
---
Step 1. Input an audio file
Launch Music Editor Free and click "Open" to add audio file to the waveform window.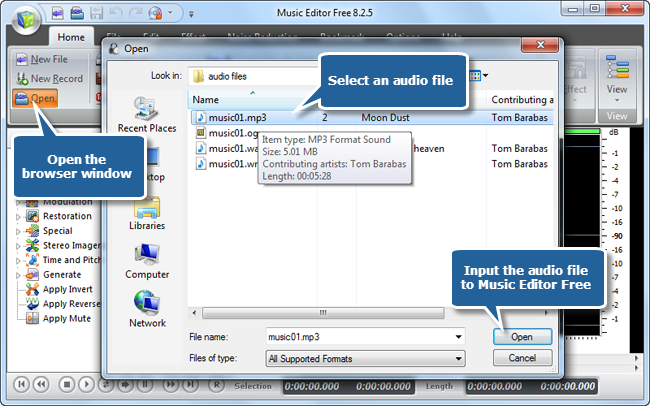 ---
Step 2. Select a region
Select the region you want to edit. To select an area where you want to edit click within the waveform editing area and, without releasing the left mouse button, move the cursor to the left or right to make a selection.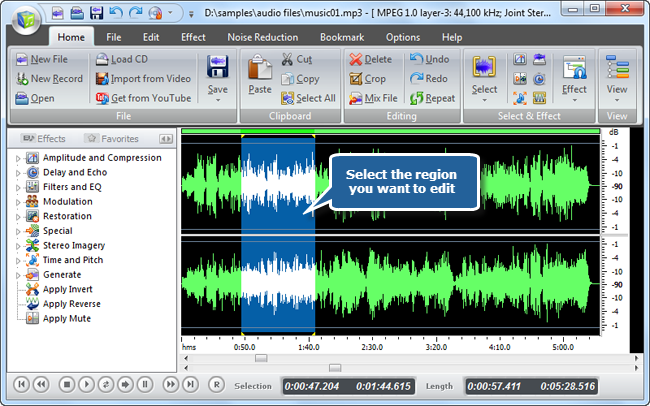 ---
Step 3. Edit the selected waveform
Click "Edit" tab. Now you just need to click the buttons of cut, copy, paste, crop, delete and many more to edit the selected waveform.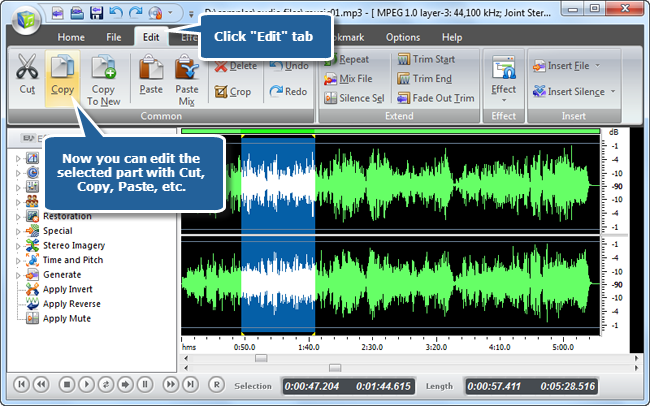 ---
Step 4. Add audio effects to the selected region
If you want to add some sound effects to the selection, just go to "Effect" tab to click a button of the effects provided, like echo, vibrato, fade in, fade out, chorus, amplify and so on.  The settings window of corresponding effect will be activated.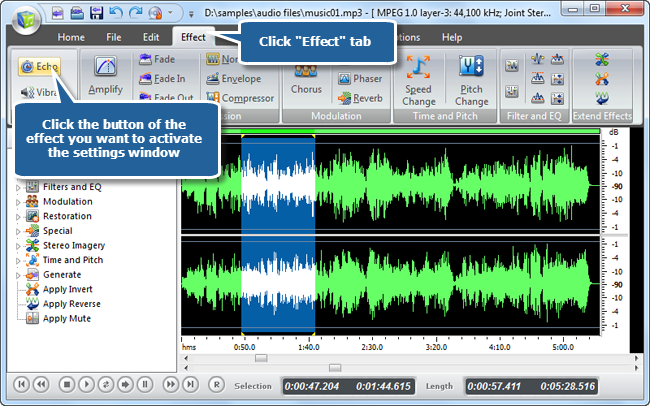 ---
Step 5. Adjust the output quality
You can adjust the quality by specifying detailed parameters or applying some popular presets. Click"Preview" to listen to the music before adding the effects to the waveform to make sure you get exactly what you want.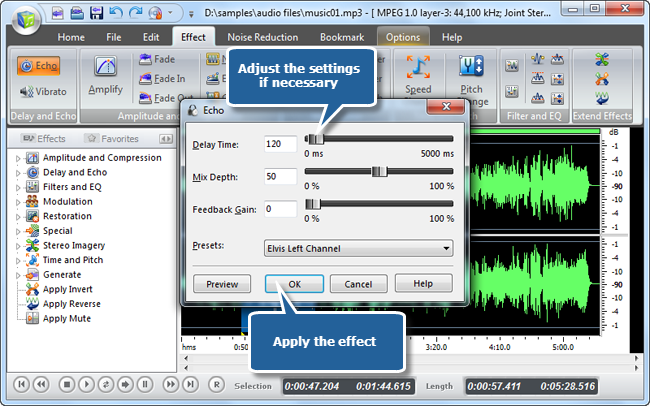 ---
Step 6. Save the changes
Now go back to the "Home" tab and click the "Save" button if you would like to change your source file. You can also click the black arrow under the "Save" button to select the necessary option:
Save File to save all the changes to the source file;
Save File As… to save the edited audio track with a different file name and/or location;
Save Selection As… to save just the highlighted selection to a file.